Coffee and Conversations: Denise Sweet (Ep. 1)
On a rainy Thursday in April, we ventured out to the Mustard Seed Café to interview former Poet Laureate Denise Sweet.
Hang on for a minute...we're trying to find some more stories you might like.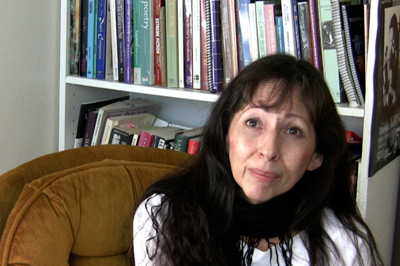 After listening to Denise Sweet speak to our IB English class, we were curious to learn more of her opinions, and hoped that she could answer the questions that we pondered after her presentation.
Question: What about your surroundings inspires you?
Answer: I find the natural world most inspiring, especially the Great Lakes like Lake Superior. Lake Superior is the largest source of fresh water in the world (by surface area), and that fact is a compelling source of inspiration for me. I also find the richness of diversity in urban areas exciting and thought-provoking. As a poet, I need the stimulus of difference, of newness, of diversity of thought and the strength of multicultural identity. This valuable resource is sometimes overlooked and untapped. It is a powerful distinction we have on the global stage, and, as a poet, it drives me to write about the vital mosaic that exists around me.
Q: What did the title Poet Laureate mean to you?
A: As Wisconsin's 2nd Poet Laureate, I was asked by our governor to represent the poetry of America and Wisconsin, in particular as a sort of goodwill ambassador. With enthusiasm and humility, I accepted that challenge. I have deep respect for teachers who expose their students to poets and their works—who knows where that could lead? Look at me?! When I was your age, I wrote my first poem in reaction to the assassination of Dr. Martin Luther King, Jr.; in turn, my English teacher sent it to the Wisconsin Public Radio and it was read over the air. That was the seed of which I was to become—a poet who brought the love of the carefully written word to children, student, and the adult audiences in the state of Wisconsin: an experience of a lifetime.
Q: Advice for aspiring writers?
A: In order to write, you must read. Read an entire library, if you can. If you love the Humanities, read the Natural Sciences. If you love Shakespeare, read Hunter S. Thompson, or Charles Bukowski. If you like reading blogs, study cinema and watch films. Become an expert on something. Anything. Diversity of thought strengthens your writing skills. Keep a journal. Read your own poetry aloud. Trust your own sensibilities. Find your own favorite poets. Be your own favorite poet. Success is not guaranteed. Fail often. Fail better next time. Never give up.
Q: Is leaving the reservation a form of escape rather than receiving outside influences?
A: Leaving home is a paradox for many Native Americans. Home will always be where family is, where the roots of our identity exists. Is it a city existence, is it rural, is it reservation, is it "traditional," is it "contemporary"? When we leave home, many of us enter a place where our identity shifts to include that experience and it folds into who we are. However, we always return to our family, to our roots, to that place that surrounds us and affirms us as Native people. I call it the "Setting Out-Homing In" paradox. When we leave, we realize where we belong. I think that is the common experience for many Americans.
Q: Stigma surrounding the idea of leaving a reservation rather than living on it?
A: That is a very good question. I think it can become a stigma that one can choose to bear. Many of our people were forced to leave, or our children were taken from their families and brought to boarding schools, hundreds or thousands of miles from their families. By some remarkable miracle, our ancestors survived those experiences, and many returned to their homelands, while some stayed in urban areas and fought the good fight on behalf of their people. Leaving home is nothing to be ashamed of—its outcome depends on what you do as a result. Let your life come to nothing or make the decision to make a difference.
Q: What is the most important aspect for people to know about Native American culture?
A: It is vitally important for others to understand sovereignty; that is we are dual citizens of both the United States and of a sovereign tribal nation. Like the U.S., tribal nations have independent governments, they negotiate treaties with other nations, enforce laws, and prioritize our own educational goals and objectives. Of course, we abide by state and federal law, but we also have law enforcement that is observed (or ought to be) by state and federal law enforcement departments. Most White House administrations have reached out to the tribes to build a working relationship with them. This is smart because treaties can benefit non-tribal citizens as well.
Q: How do you feel about the threats towards natural preserves and natural resources?
A: Quite frankly, I am horrified by the actions taken by the current administration. The Environmental Protection Agency is being quickly dismantled. The disregard for water and land quality over the exploitation of those resources by multinational corporate interests (especially Exxon Mobil, Chevron, OPEC, BP) is robust, deliberate and blatant; that should concern the entire citizenry and not just tribal people. Keystone and the Dakota Access Pipeline (DAPL) are immediate examples of the direct assault on natural resources. Those projects flatly ignore the preeminent dangers of underground pipeline projects. Make no mistake: I understand the economic impacts and the arguments of job availabilities (a very flawed argument by the way), but the current administration ignores the fact that alternative energy systems provide greater long-term employment, and are financially solvent, contributing ten-fold on local economies. While solar and wind resource companies have a greater and positive impact not only on local tax base, they contribute to national and global economies as well. It also leads to the decrease in dependency on foreign oil imports. Don't we want that? Don't we want to pay attention to the scientists of the world who warn us on our reliance of fossil fuels? Do we not see water quality diminishing, while arctic polar ice caps are melting each year at alarming rates? Hurricanes, earthquakes, tornados—how can we ignore the increase of severity of these natural catastrophes? I am not an alarmist, to be sure, but I undertake constant research on these issues, and I've come to the conclusion that, apparently, I live in a different world than our elected officials.
Q: What are your thought concerning the controversy surrounding the DAPL? What can people do to support No/DAPL? Have you personally been involved in the preservation efforts?
A: On the advice of elders and a member of the Indigenous Environmental Network, I did not go to Standing Rock. Personally, I felt I could be a poet of witness in a greater capacity by using the technologies available to me—Skype, live-streaming, crowdsourcing, etc. Granted, I made plans to go several times, but the older people often would just shake their heads at the spectacle there. Somehow, I could predict what had happened eventually; the forced evacuations, the illegal tactics undertaken as "crowd control," the actual crimes that tribal and non-tribal demonstrators committed themselves, the absolute mess of unattended garbage and human waste that accumulated as a result of thousands of people overpopulating Standing Rock. It was like an open-air rock concert that lasted for nearly six months. In my humble opinion, I felt that Standing Rock became a cultural petting zoo for some of the demonstrators. They traveled to Standing Rock to be a part of the spectacle, leaving behind not only an assault of trash upon that land, but the actual political issues that remain to this day at Standing Rock. What do they do when they come home from Standing Rock? Post photos on Instagram? Tweet the latest protest slogan? Circulate selfies with Standing Rock celebrities on Facebook? Wear the No/DAPL T-shirts as they go back to their safe space, thinking they have done their civic duty? Do they even reflect upon the facts of their own reliance on fossil fuel and water resources outside of their communities? (P.S. Don't get me started on the scam of bottled water products (see "Tapped," or "Blue Gold: World Water Wars")). From my past experience as an activist, I became aware of the politics of protest; if you are going to be an agent of social change, you must pick your battles carefully. The impact of being a witness or a demonstrator has led me to realize that battles such as DAPL can be more efficiently addressed in the state and federal courts. In my opinion, Standing Rock could have saved themselves considerable grief by taking legal action immediately. Sue the crap out of Big Business and Big Money—that's my position!