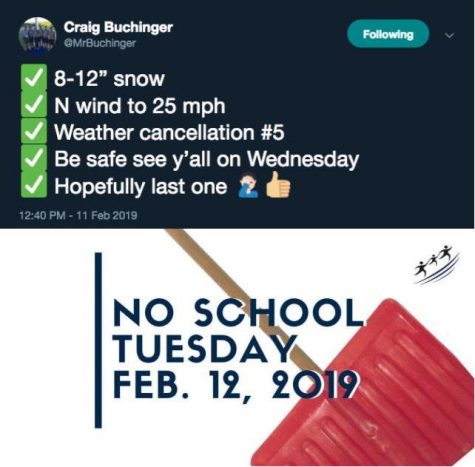 Preston Cedergren, Social Media, Opinion, and Website Editor
February 28, 2019
This year there have been record amounts of inclement weather cancellation days, five to be exact. Or one entire week of school. When there might be a cancellation, the first spot many staff members and students look at is the Twitter of biology teacher Mr. Craig Buchinger. Buchinger has made a name for himself by predicting cancellations that may come for the Howard Suamico School District. "I don't remember exactly what year it was when I started predicting," said Buchinger. "It was probably about eight to 10 years ago though." Buchinger has a meteorology background that leads back to when he was just a young kid living in Kaukauna. "I can remember being a kid and liking storms and the weather and snow days," said Buchinger. "I actually almost went to college to become a meteorologist." Buchinger added he doesn't regret changing his mind to become a high school science teacher and loves what he does....
February 13, 2019 • No Comments
There are many theatrical opportunities at Bay Port, however, there is one extracurricular that seems to remain less advertised to students looking to be involved in the theater program. One Act is a short...
Mercy Gichobi, Overal Managing Editor
January 27, 2019 • No Comments
Incredible, marvelous, hilarious, and a huge success, were just a few words that were used to describe the 20th annual Bay Port Guy Pageant, that was held on Jan 24. "It was so funny and...
Backup QB takes big role for Pirates in the playoffs
January 24, 2019
Lucien Petit, Overall Managing Editor
February 25, 2019 • No Comments
In the name of Liberty and Justice for some, the Head of State of the United States of America -- that is, the President -- has declared a "State of Emergency" in an effort to increase the productivity...
Angela Furmaniak, Staff Writer
February 25, 2019 • No Comments
Many students will take traditional math classes such as calculus, algebra, and geometry. But many students will forget about a practical course that involves math that they will actually use in real life...
January 29, 2019
Morgan Andrews, Design Editor
April 4, 2019 • No Comments
The Bay Port Baseball team just returned from their spring break trip to Florida. The season starts today, April 4 against the De Pere Redbirds. The team has been preparing for months. In...
Mercy Gichobi, Overall Managing Editor
March 11, 2019 • No Comments
Bay Port Girls basketball team won their first ever state championship last weekend on March 9, against the Middleton Cardinals with with a last second shot 50-49. Starting the championship...