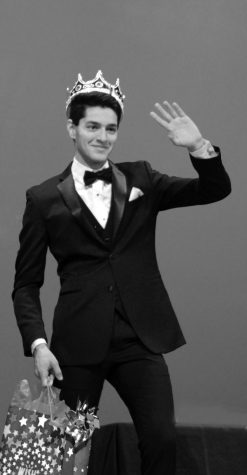 Mercy Gichobi, Overal Managing Editor
January 27, 2019
Incredible, marvelous, hilarious, and a huge success, were just a few words that were used to describe the 20th annual Bay Port Guy Pageant, that was held on Jan 24. "It was so funny and cute, I can't believe I've never been to one before," said Junior Trinity Kelly. Each act was witty, entertaining, and quite memorable as the crowd went wild with applause after every performance. The night's set of seniors was made up of Ken Franks, Ryan Kemppainen, Trevor Winkel, Drew Abfall, Kane Nelson, Jackson Salmon, Zarvaan Balaporia, Teddy Lacy, and Joe Kleba. The Mr. Bay Port crown went out to Zarvaan Balaporia, followed by Ryan Kemppainen as runner up, and Trevor Winkle as Mr. Congeniality.   With many acts and dances, one of the top favorites of the night was...
February 13, 2019 • No Comments
There are many theatrical opportunities at Bay Port, however, there is one extracurricular that seems to remain less advertised to students looking to be involved in the theater program. One Act is a short...
Preston Cedergren, Contributing Editor
January 24, 2019 • No Comments
Andrew Thomas started the football season thinking his main role for the Pirates would be place holding on extra points and field goals. But during week nine of FRCC action Bay Port senior,...
Preston Cedergren, Contributing Editor
February 15, 2019 • No Comments
With injury problems, the #3 Bay Port Pirates (15-8-1) entered the Regional Championship game Thursday, Feb. 14 against the #6 Antigo Red Robins (10-13-1) at Cornerstone Community Center. Seniors Jake...
Preston Cedergren, Contributing Editor
January 29, 2019 • No Comments
After falling 3-1 to rival Notre Dame Academy on Thursday Jan. 24, Bay Port (13-6-1 overall, 4-1 FRCC) matched up against Ashwaubenon (8-14-0 overall, 1-7 FRCC) in conference hockey on Jan....