Last win, first golden ball
Bay Port Girls basketball team wins state champions.
Bay Port Girls basketball team won their first ever state championship last weekend on March 9, against the Middleton Cardinals with with a last second shot 50-49.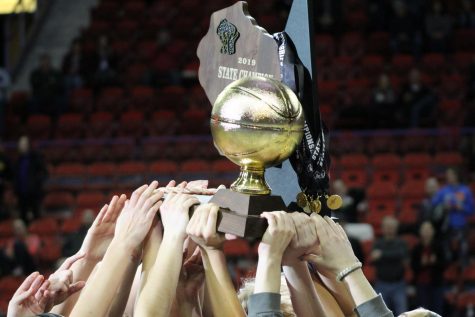 Starting the championship weekend off strong, the Lady Pirate defeated the Kimberly Papermakers, 63-53. Leading the team with 13 rebounds and 23 points was junior Emma Nagel and breaking the first half 23-23 tie was junior Reagan McIntyre. After the win, the girls were to face the Middleton Cardinals for the state division one championship.
As the fan section grew in anticipation for the game to begin on championship Saturday, the girls had their last huddle and began warmups.
The game started with Middleton leading early, but the Pirates quickly took the lead when junior McKenzie Johnson  scored back-to-back three pointers.
The Pirates lead for most of the game, but with a little over 30 second left of the game Middleton junior Josie Lemirande scored a three from the left corner putting the Cardinals in the lead 49-48.
Bay Port took over possession with less than 20 second left in the game. The girls began their play, hoping to get the ball to McKenzie Johnson for a three. However, when the Cardinals blocked that plan, forward/center junior Emma Nagel saw an opportunity, took the shot and scored, putting the Pirates up by one. There were only 2.6 seconds left on the clock. Nagel's shot ended up being the winning shot for the Pirates.